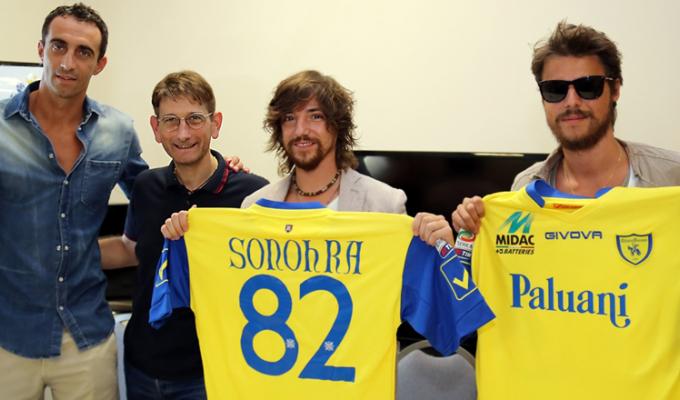 It was an invasion. In those peaceful, colorful and noisy, which involved larger and smaller, youth and families united by a single immense passion: to ChievoVerona. In this magnificent setting was presented this evening the new official anthem of ChievoVerona "Vola Con Noi" by Luca and Diego Fainello, that we all know as Sonohra. Two popular artists in the music scene and two Italian friends and fans of Chievo, authors of a song that henceforth accompany Gialloblù players before each game official.
Along with all the Chievo players, Luca and Diego played and sang the hymn "Vola Con Noi" in the midst of the fans in the garden at the Sport Hotel Veronello. They will also be added coach Giuseppe Sannino with all his staff. Shortly before, however, during the press conference the president Luca Campedelli has intervened in person to stress the importance and the beauty of this evening. "I want to thank Ivana Spagna for the first song that we wrote so many years ago – the words of President Campedelli – and I am honored and proud that Chievo now has another beautiful song as a hymn, written by Luca and Diego. They have done an outstanding job and this must be recognized."
A late summer evening was transformed, so, in a moment that will forever remain in the hearts of fans. " The honor and the pleasure of being the authors of the new anthem of Chievo are all our – the comment of Luca and Diego – because we have always been fans of Chievo and be able to implement the new anthem of the team that we love so great for us".
The hymn of Chievo "Vola Con Noi" is available for download on iTunes.